Effeuno P134H 509 pizza oven
*
Lowest price within 30 days before promotion:

€779.00
 Presale. Shipping on 19/02/23
The new, improved version of the iconic P134H 509 pizza oven allows you to prepare Neapolitan pizza in just 60 seconds. Thanks to its compact size, it will turn your kitchen into a real Italian pizzeria. This is the best pizza oven that runs from a regular household socket! It will also be perfect as a substitute for a home oven.
Safe shipping on a pallet!
The best pizza oven, now even better!


The new, improved version of the iconic P134H 509 pizza oven introduces numerous functional and aesthetic changes. The new shape of the heaters, ensuring more even baking, a flat bulb cover that makes it easier to handle the pizza, and an even higher maximum temperature make pizza baking even more satisfying. The external appearance of the stove has also been changed, thanks to which the device will fit even better into modern interiors.
The set includes fireclay stone ideal for the preparation of Classic, Teglia, Pinsa or Foccacia pizzas.
To prepare Neapolitan style pizza we recommend additional Biscotto - a volcanic clay plate, ideal for baking Neapolitan pizza.

A professional pizza oven in your kitchen


Effeuno is an Italian manufacturer that has been offering professional, top-quality ovens for gastronomy since 2007. The Easy Pizza line and the P134H 509 model belonging to it is a compact version of the oven with the parameters and capabilities of professional devices used in the best Italian pizzerias. High performance, reduced dimensions and lower energy consumption: these are the main features of the P134H 509, the professional pizza oven that fits in your kitchen!
This is the best oven on the market powered by a regular 230V household socket.
In addition, it will be perfect as a home oven, in which you can also prepare delicious bread, cake and even bake chicken.
The P134H 509 pizza oven allows you to prepare a Neapolitan pizza in as little as 60 seconds, on a certified Biscotto volcanic clay plate. In addition, the inner chamber is illuminated by a halogen lamp with a flat frame, thanks to which you will see your delicious pizza blush. The oven has two independent thermostats, so you will be able to control the temperature of the lower and upper heater separately to facilitate the pizza baking process.
The oven is 100% manufactured in Italy.


The highest quality


The Effeuno P134H 509 pizza oven was made of the highest quality stainless steel, it was used to make the baking chamber, housing and knobs. The outer and inner glass in the front door are made of tempered glass, while the inside is made of ceramic glass with low thermal conductivity. All used components are made of the highest quality materials, capable of operating at very high temperatures. In addition, the outer casing maintains a low temperature during baking through forced ventilation and is equipped with a special seal for a soft door stop.
• Mechanical control
• Stainless steel baking chamber and housing
• Baking on fireclay stone or biscotto (biscotto stone sold separately)
• Internal oven lighting
• Two 509° C thermostats
• Massive three-layer door with ceramic glass
• Silent closing of the door thanks to the fireproof seal
• Cold outer cover thanks to forced air circulation
• Stainless knobs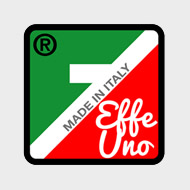 Official distributor
We are the official distributor of Effeuno in whole Europe. 
We provide full warranty and post-warranty service in a door-to-door mode.
If you have a problem with your oven, we will send a courier to pick it up, repair it, and ship it back to you, all at our expense.
Exclusive distributor


• External dimensions: 54 x 59 x 27 cm (width x depth x height)
• Internal dimensions: 35 x 41 x 9 cm (width x depth x height)
• Power supply: Volt ~ 230 / 50-60Hz
• Power: 3 kW (upper heater 2100W, lower 900W)
• Thermostat: 2x50-509 ° C
• Diameter of the pizza: 34cm
• 24-month warranty
• Servicing in Europe in the Door-to-door system
• Safe delivery on a pallet!


Customers who bought this product also bought: